VECC Virtual Learning Plan 2022-2023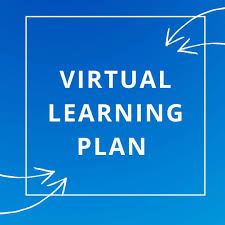 ---
Ventnor City Public Schools
Virtual Learning Plan
2022-23
Dr. Carmela Somershoe
Access
The district is one-to-one for all students in grades K-8. Each student has their own computer to use in the classroom. If full remote learning is required, student computers and chargers will be used by all students to access virtual instruction. Families will be surveyed to determine if there is a need for connectivity. Teachers will follow up with students that have had trouble connecting and can refer parents to the office if connectivity support is necessary. Hot spot devices will be provided to those in need. Preschool families will have access to both a device and connectivity on an as needed basis determined by survey of families and need reported by teacher(s).
Virtual Learning Plan
In the event the State of NJ or NJDOH shuts public schools down again or shuts the schools in some capacity, the district will return to a full-remote learning plan. All grades will utilize a combination of synchronous and asynchronous learning activities to navigate the district's curriculum. The required four hours will be accomplished through a designated schedule with a variety of learning opportunities, assignments, and activities. Kindergarten remote learning will be accomplished through a designated schedule with a variety of learning opportunities, assignments, and activities. Teachers and paraprofessionals in preschool will use ClassDojo as well as the Creative Curriculum Cloud parent and student resources to provide live and recorded small group and whole group activities and lessons. Teachers and paraprofessionals in the K- 8 grades will work with students to deliver direct instruction in whole and small groups via Microsoft TEAMS with on-line live and recorded instruction. Online curricular programs include but are not limited to Kidbiz, ixl, Raz-kids, Really Great Reading, Savvas Learning Science and Social Studies, Sumdog, HMH Ed platform, Big Ideas Learning, etc. Staff will meet live with students daily and supplement live meetings with other online content and assignments. At least four hours of instruction will be provided daily excluding lunch and recess. Additional time for planning, preparation, professional development, extra help/tutorial and office hours may be developed in this model as needed. District benchmarks will continue through online platforms to monitor student growth.
Attendance Plan
The district approved Board of Education policy regarding attendance (including retention) continues to be followed during remote/virtual learning. Attendance will be documented and submitted for review by Guidance Counselors, School Attendance Clerk and Building Principals/Supervisor. To be counted as present, students must complete assignments provided by teacher, log in to live class, or notify teacher via TEAMS that they are present. Parents will follow current procedures for reporting absence of students by calling school office to report. The following procedures will be utilized for attendance monitoring:
Closely monitoring daily attendance in cooperation with teachers and the guidance counselor

Counselor weekly will email staff with attendance tracking

Counselor will call on TEAMs during classes that the student is not attending to see why they are not connected

Teachers will be monitoring and reaching out to counselor for follow up when attendance issues arise

Attendance analytics from our student information system will be sent to parents

Individual virtual student schedules will be sent to parents and students with online class and small group times

Calling parents and home visits may occur when children have escalated in number of days absent

Older siblings may be contacted on TEAMS to assist younger students to connect.

Communication with DCPP case worker regarding attendance for current open cases
Daily class attendance tracking for middle school

Examining patterns and communicating with parents regarding students not attending a particular class and the impact on grades

School office available to assist parents in troubleshooting tech issues and logging on to online platforms

Child Study Team follow up for the attendance of special education students – contacting parent and reaching out via TEAMs

Juvenile Family Crisis contacted to reach out to families of students over 10 years old with attendance issues
Continuity of Learning: Ensuring the Delivery of Services to Students for Special Education and ELLs
Remote/tele-therapy services are allowable in the event of full closure. Students in full-time remote that are eligible for related services will be provided the service through remote means. Therapist will contact families and provide services in a means that includes accessible materials
and platforms. This also includes being provided at a time that is convenient and appropriate for the family. When remote therapy is not provided, support will be provided to classroom teachers, case managers and family members.
Case managers will make weekly check ins for students in resource and inclusion with the family and the student's teacher to ensure IEP goals/objectives are continuing. Case managers will attend classes when needed to assist in providing organization, counseling and/or assistance. Teachers will track student progress as well as implementation of accommodations and modifications to support the goals and objectives listed in each student's IEP.
All meetings and evaluations will be held virtually if possible. All testing materials are available web based for providers. If evaluations cannot be held remotely, the district will make accommodations to provide in-person evaluation following CDC guidelines. This may include testing in district, testing outdoors or using an outside agency to assist with evaluations. All meetings will be held in accordance to mandated timelines. Initial identification meetings will be held in the same manner as IEP, annuals, re-evaluation planning, 30-day reviews, etc. The district will conduct meetings through Zoom platform.
ELL students who will be following general education cohort will be monitored. If additional services are warranted for specific students under this category, specific tiers of intervention will be followed. ELL students will meet with POE and ESL teachers according to their current schedule. ESL teachers will monitor general education classes through teacher check ins.
Microsoft TEAMs (district online platform) can translate in all languages for our students and families. Students have access to TEAMS via one-to-one devices. Online chat is also available to all to reach out to ESL and POE teachers if students/families need additional translation assistance.
All modifications and accommodations for ELL learners are listed in district curriculum. General Education teachers have access to on-course as well as POE and ESL teachers for assistance to ensure that students continue to learn regardless of in school or remote instruction.
All new students will be evaluated using the ELL identification process including NJ Home Language Survey, Records Review Process, and Multiple Indicators for Identification. Students eligible for ELL will be provided services. If WIDA screener cannot be completed for student during remote instruction, student will be provided ESL consult until screener can be completed. Additional benchmark data and review of records will occur. District benchmarks are available remotely. If student records must be accessed, district administration at the digression of the superintendent of schools or their designee will access records and provide the needed information to providers. Professional development in ELL strategies is on-going in the district.
The district continues to be sensitive to the needs of all students including those who are experiencing forced migration. In partnership with Effective School Solutions, district guidance and district Champions committee, all staff are trained in culturally responsive teaching and learning, social and emotional learning, and trauma informed teaching. All staff including teachers, paras, administration as well as secretarial, clerical, and security completed TAM (Trauma Attuned Model) course through Effective School Solutions.
Safe Delivery of Meals
In the event the district is placed in a full-remote learning model, the Ventnor School District will continue its food service operation for all students.
Weekly breakfast and lunch bags will be prepared by the cafeteria staff for parents to pick up on Fridays from 9:00-11:00. The bags will consist of 5 breakfasts and lunches for the following week. Parents will be asked to call the cafeteria if interested. School buses will be used for food delivery as needed.
Facilities Plan
The building will be maintained throughout the extended closure with the cooperation of the outside cleaning contractor and district maintenance crew. The supervisor of facilities will ensure that staff are scheduled to complete routine maintenance and cleaning in compliance with any restrictions that are outlined by CDC or NJDOH.
Other considerations:
The Ventnor School district continues to explore additional opportunities to enhance student learning. Accelerated learning opportunities are available through Microsoft that include coding, live virtual visits, recorded museum tours and more. Nearpod and google maps allow for students to "see" the areas being discussed.
Students who need additional support (title 1, credit recovery, extended learning opportunities) can be serviced through meetings with teachers through TEAMs platform. Academic Afterschool program held in district will also move to remote platform during virtual learning. Students will log into TEAMS meetings to work with teachers during after school tutoring.
Extra-curricular programs that can be held remotely will continue during virtual learning.
The district will continue to provide a list of outside resources available to families, not limited to counseling programs, food providers, transportation assistance and childcare options. Resource lists are available through guidance, child study team and school offices. Resources are listed on the district website and information will be sent to families via email program.
Families in need of health care information can contact the district health office. District nurses will be available to answer questions and provide resources.
All staff, students and families will be continuously monitored to ensure health and safety. Those in need of social/emotional support will be provided with telehealth information.
The district professional development will continue through TEAMS online platform. All staff have online access to curriculum, class materials and student information system.
District Technology department including Curriculum Coordinator and district coaching staff will be available to assist students and staff with transition to virtual learning. District IT will update the district website with all updates to CDC guidelines.
Essential Employees
In the event of virtual learning, the superintendent or their designee will forward to the county office a list of essential employees as well as a list of staff that can access the building during virtual learning.